FRENCH DRAINS


CONTACT US TODAY!
Call Us Today for Immediate Service! 925-570-3347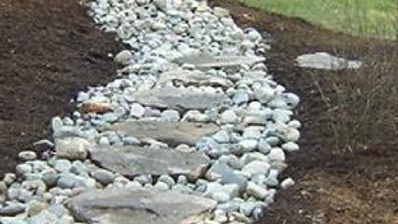 French Drains
French drains are both aesthetically appealing and good for your home.

Excess water build up can cause dry rot in your home's under-flooring, support beams, siding or in the fences in your yard.

French drains are an elegant solution to rid yourself of built up water on your property.

At LCS Builders we can create a beautiful french drain that not only serves it's purpose but can add value to your landscaping scheme as well
French drains are created by first looking at the natural slope and potential water flow of your property. Then we dig a trench to take advantage of ths natural water flow.

Once the trench is completed we lay down a waterproof liner and a collection system that helps the water flow past the original areas where it used to collect.

Then we cover fill in and cover the entire trench with gravel and / or natural stone to match or compliment the existing landscape f you yard.
Call Us Today
For Immediate Service!
Easy To Find & Convenient Hours
Office Hours

s
Monday 8:00AM-5PM
Tuesday 8:00AM-5PM
Wednesday 8:00AM-5PM
Thursday 8:00AM-5PM
Friday 8:00AM-5PM
Saturday Closed
Sunday Closed
If you have an upcoming project, give us a call.

And discover the specific ways we'll benefit you.

We have a capable, experienced staff ready to listen to what you have to say about your project, and offer their unique suggestions on how to make it a success. Take advantage of this opportunity to get a qualified outside perspective, and call us. We look forward to hearing from you.




1807 Santa Rita Rd. H-267 Pleasanton, CA 94566

Call Us On: (925) 570-3347 / Fax: 925-218-5196
Email Us at tom@lutzconst.com / suelutz@aol.com
Contact Us Today 925-570-3347